One of the most crowded spots at The Makeup Show every year is Crown Brush. The booth wasn't jam packed for a few moments, so I took a gander. They aren't the best quality brushes that I've ever used, but they will definitely suffice. Some of the brushes were $2 and $3! Can't beat that.
I bought these 6 brushes. I really, really wanted a kabuki brush. Why I didn't get one, I can't tell you. They all had assigned names for what they were supposed to do, but here's what I am going to do with each.
The brush to the far left is going to be for powder. I believe I paid $9 for it. It's not as soft as a MAC powder brush, but it gets the job done. I didn't have anything this massive, and for some reason I thought I needed it. The next brush is a "round angle blender". Since it's flat at the top, I think it will be great for the outer V and working condensed color into the crease. The third brush is a "chissel fluff" brush. It feels as if it's made of badger, so I would use it for concealer or another creamy product. After playing with, I think it's the ideal shape for shadow if applying it to a creamy surface. Buffing it in will give an amazing sheen!
The fourth brush is flat and would be the most ideal concealer brush. It's stiff enough that it will lay cream or liquid on the skin. The fifth brush is a large fluffy brush, a better version of the MAC 225 brush, in my opinion. I'll use it to buff powder into under eye areas, add subtle highlights to the face and to blend shadow thoroughly. Lastly, I got a good stiff brow brush. You can use it to brush your brow hairs into place, and to apply color to the brow. I think this brush is a bit too stiff for me.
Overall, I'm pleased. I spent a total of $29 for these! You just can't beat that price! For more info on Crown Brush, check out www.crownbrush.com.
Find the best makeup for your personal style with this quiz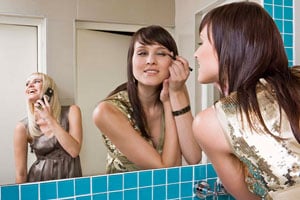 Are you obsessed with the new neon trend or are you more of a stick-to-what-works kinda gal? Take this quiz to find out what kind of makeup fashionista you are and in turn you'll get customized makeup tips and product recommendations that'll help keep your beauty needs satisfied.