By Erin Baynham Leave a Comment
Ummm, yeah. The Title says it all. The brow to the left is the tragic, naked brow that I posses. The brow to the right is the remodeled, restructured brow recreated by L. Bones, pro artist and super sweetheart. Let me tell you, this clear girl has swag! She is a phenomonal make-up artist, always wearing the most fresh faced, flawless makeup. I've learned so much from her!


Want to see just what she used to accomplished the look?? Follow along, babes…
Before you leave your computer, you just HAVE TO go to Lauren's MySpace page and add her as a friend! Her portfolio is something SO serious!!! If you want more info about Lauren, feel free to shoot me an e-mail at Scandalousbeautyonline@gmail.com!
From pencil-thin to insanely bushy, see how stars like Madonna, Tyra Banks and Mariah Carey have tamed their unruly brows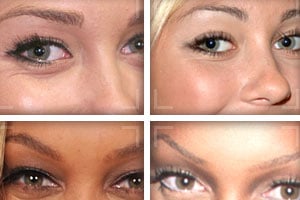 Brows hold center stage in the beauty world. Why? Because they can make an amazing difference in how you look. Check out our gallery to see the improvements your favorite celebrities have made to their brows over the years and decide if you should step up your brow maintenance. Even if you have to lay off the tweezers for weeks … it's worth it.